Open Daily from 12th April
Woburn Safari Park is OPEN DAILY from the 12th April with the Road Safari, Foot Safari and Leisure Area.
Tickets are now available to purchase per person, for visit dates between 12th April and 16th May 2021.
For visits dates after 17th May, tickets will be released in early May. Sign up to our email newsletter to be informed when these will be released.
If you have already have a ticket for a visit date when the park subsequently had to close, we have sent you an email with details of how to change your booking to a new visit date.
Annual Pass Holders can log in to the booking site, then refresh the page to see Safari Park Day Tickets, and select Annual Pass Holder Free Tickets, to book a visit date.
We look forward to seeing you soon!
A wild driving experience
Start your adventure with a Road Safari drive through sweeping parkland reserves, where you'll see wonderful wild animals with the freedom to roam in acres and acres of beautiful countryside.
You can repeat circuits as many times as you like because each trip around is a different experience. You'll see the wonderful animal residents; they might be a windscreens width away or a little more distant, enjoying their vast spacious home.
The Road Safari takes approximately 60-90 minutes and each circuit is a new experience and a new opportunity to get up close to some of the most endangered animals on the planet!
The route finishes up in the Foot Safari where you can walk around and visit smaller mammals and watch fascinating keeper talks and demonstrations. Explore the Leisure Area for our scrupulously clean toilets, Junglies Gift Shop and the Safari Restaurant serving delicious take away food options.
Then head back to the car and repeat the Road Safari circuit via the re-entry route (look for the flagpole in the concrete car park) as many times as you like!
Lets Go!
Northern Plains
Entry to the Woburn estate takes you through beautiful woodland and parkland and a winding route to the ticket lanes. From the entry gate in Ridgemont village your safari drive takes you through the Northern Plains.
Drive through wide open paddocks containing a diverse mix of animals, giving you a taste of the adventures to come.
Spot the 'Lions of the Empire' - two fearsome statues guarding the entrance to the Safari Park reserves. These are two of the six original lions which stood in front of H.M Govt Pavillion at the British Empire Exhibition in London, 1924.
The Northern Plains are home to Przewalski's horse, North American bison and brindled wildebeest, Bactrian camel.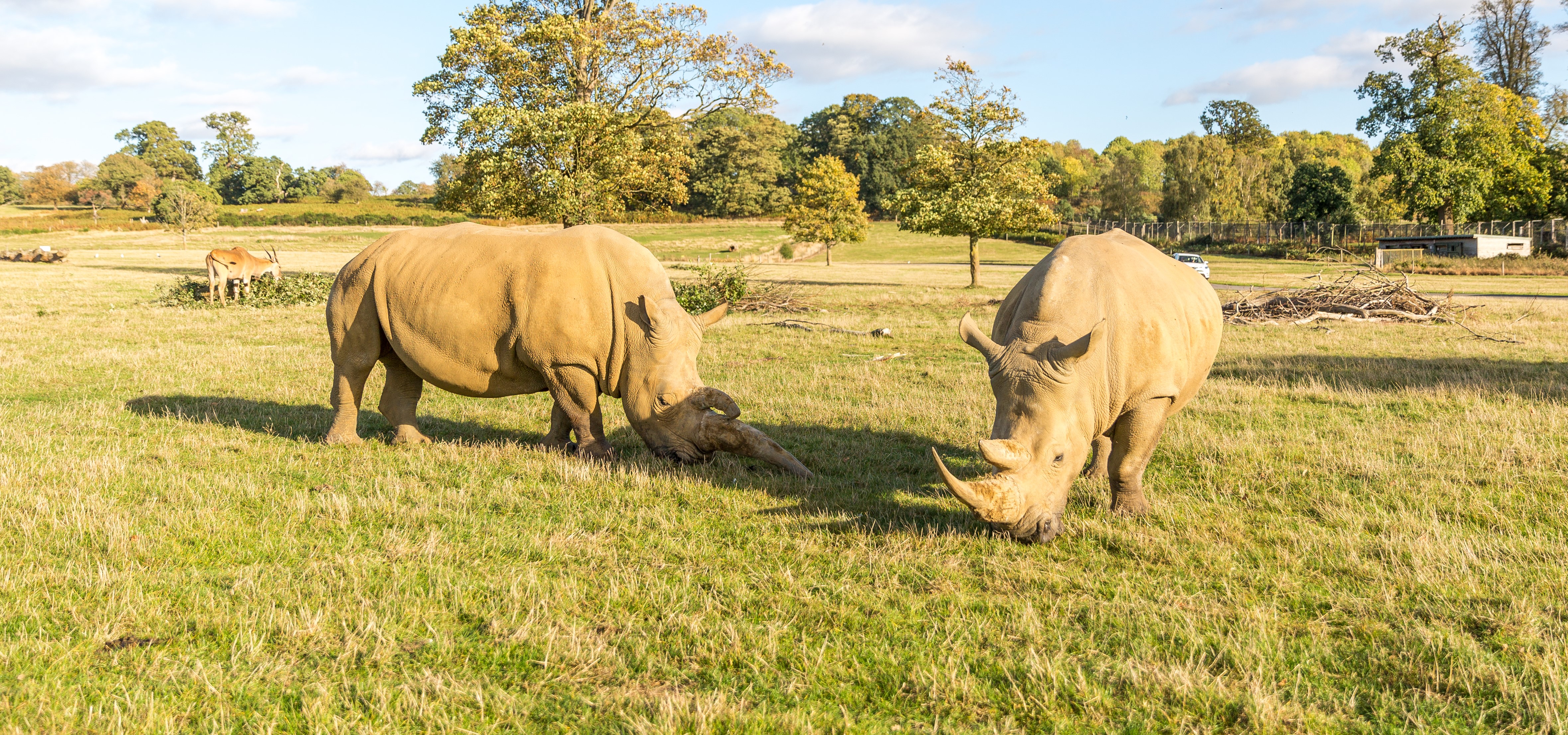 Savannah Grasslands
Through the ticket lanes with your guidebook, map and timetable in hand and it's time to buckle up and start your safari drive, through the sweeping panoramic parkland of the Road Safari.
Drive through the home of a herd of Ankole cattle with their impressive horns, see the extraordinary Southern white rhinos grazing, and enjoy the vistas of the African savannah - teeming with antelope and buffalo.
The Savannah Grasslands is home to Southern white rhino, Grevy's zebra, ostrich, Ankole Cattle, dwarf forest buffalo, elandand sable antelope.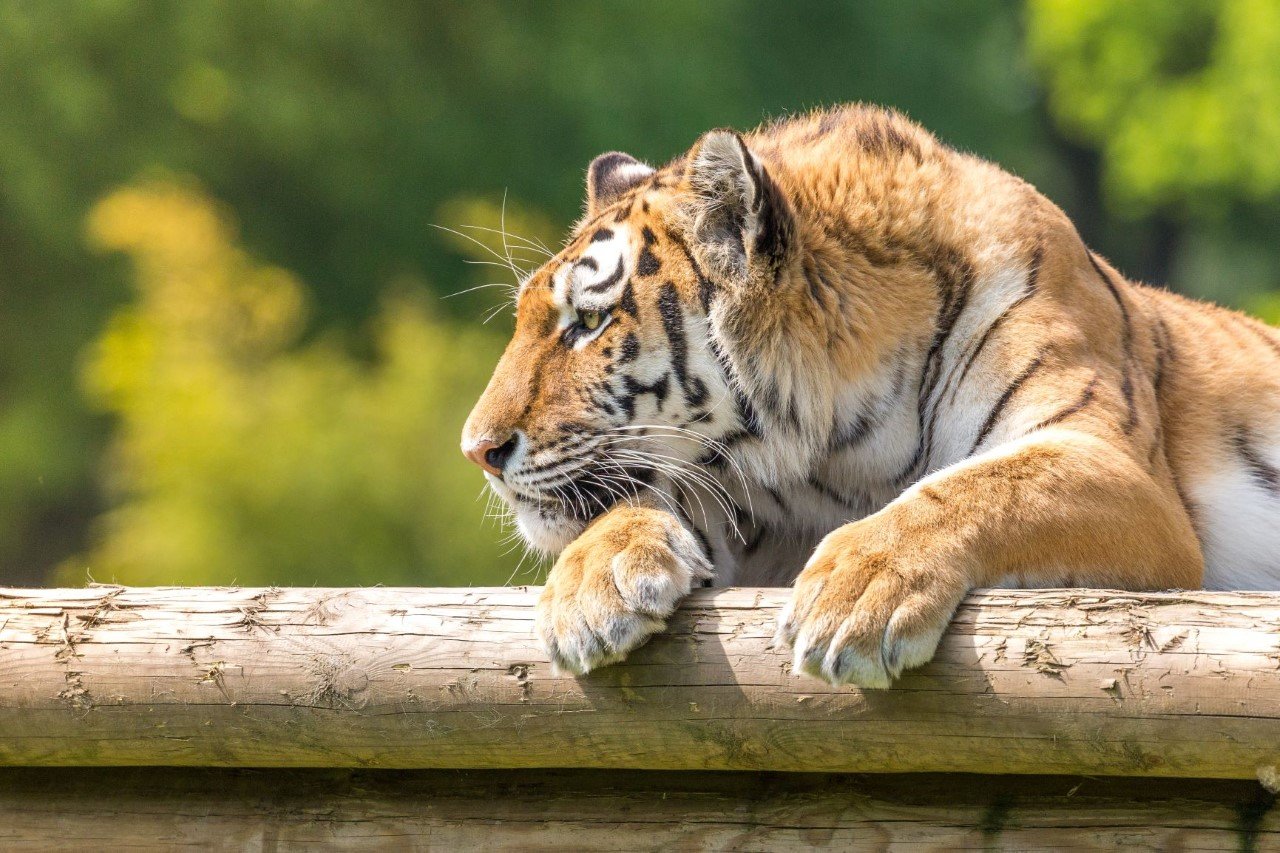 Kingdom of the carnivores
Enter through the double security gates into the domain of tigers, wolves, bears and lions! Please make sure to shut all windows and keep them closed in this part of the safari drive.
As you arrive in the Kingdom of Carnivores you enter an eight acre enclosure, home to Amur Tigers. These stripey felines enjoy a specially adapted habitat where they'll be seen sleeping on their platforms, or in the warmer months spending time bathing in their pools, as they are one of the only big cats that likes water.
Mostly you will find them relaxing in their favourite locations, or stalking the few rabbits that dare to make their home in this enclosure.
The Kingdom of the Carnivores is home to Amur tigers, North American black bears, Canadian timber wolves and African lions.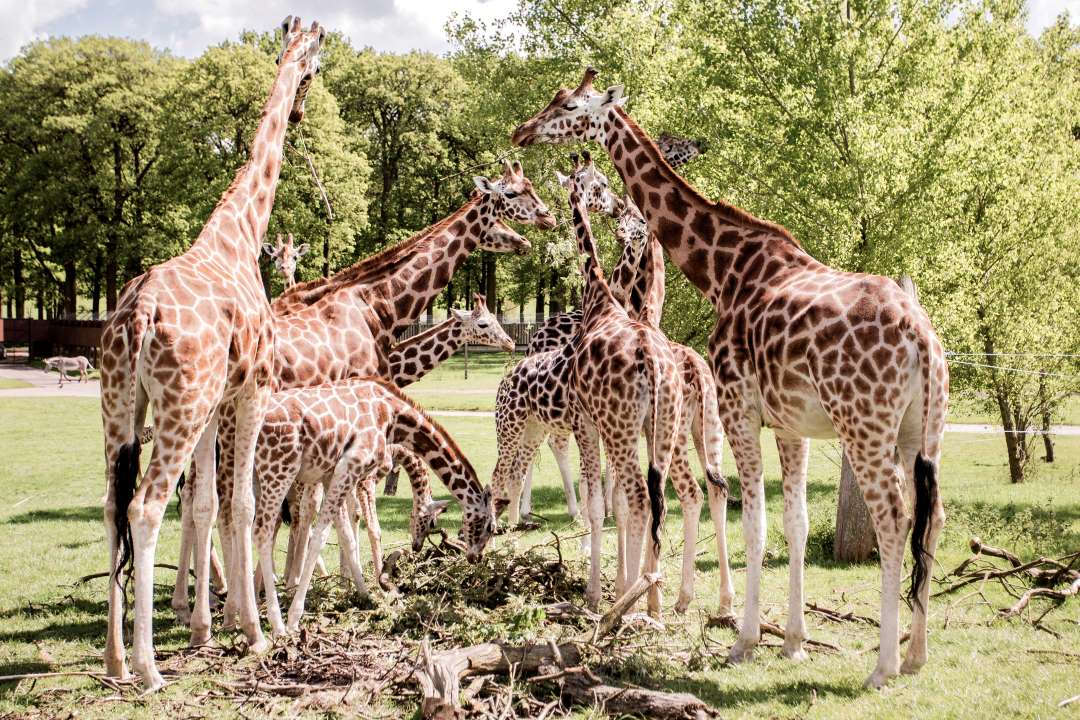 Giraffe Junction
Woburn Safari Park is home to a large herd of Rothschild's giraffe.
Drive through their nine acres of open parkland and in the warmer months watch the rare Baringo giraffe herd grazing and browsing for their favourite leaves.
Spot the youngest calves as they enjoy their grassy playground and see the herd appear to run in slow motion, whilst actually reaching top speeds of around 37kph!
In colder months you'll pass the giraffe in their yard or peeking over the doors of the Giraffe House. This custom built facility affords the giraffe every possible luxury with a large indoor space, providing the tallest animals at the park the perfect environment to eat, sleep and socialise together.
The herd of Rothschild's Giraffe live happily alongside endangered Somali wild ass and scimitar horned oryx.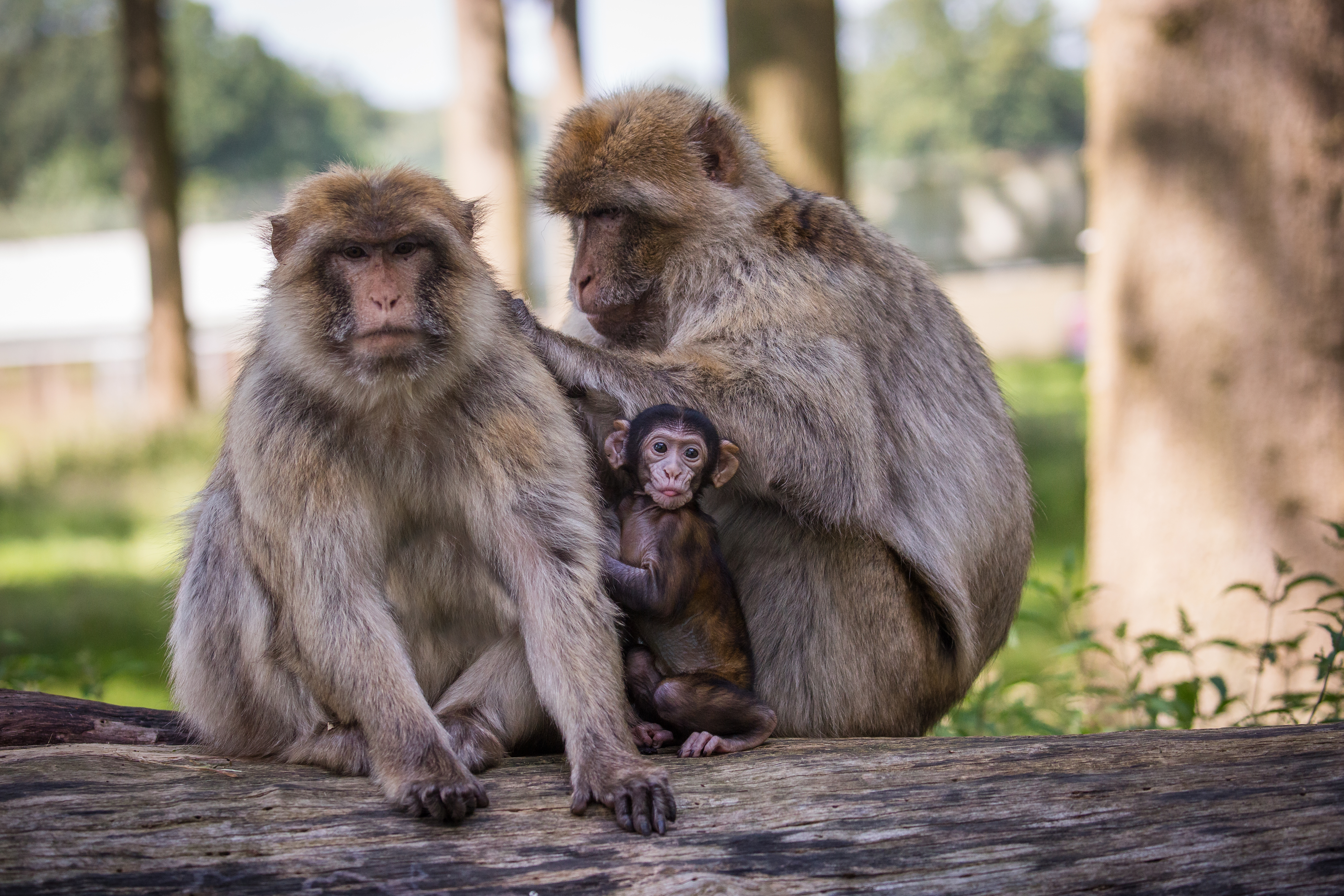 African Forest
Discover a troop of mischievious Barbary macaque monkeys, as they browse for food on the woodland floor; climb and play in the trees and roam free in their home. The monkeys share their home with East African Mountain Bongo, one of the most critically endangered mammals on the planet.
Worried about taking your car into the 'jungle'? No need - the monkeys rarely damage cars, and there is a bypass if you don't wish to drive through this section.
African Forest is home to a troop of Barbary macaques and East African mountain bongo.
Who else will you
meet on safari?
Find out who else you might meet on your trip around the Safari Park and read more about the fascinating residents!