Customer update
Due to the unprecedented situation of COVID-19, Woburn Safari Park is TEMPORARILY CLOSED. We have made this decision based on the current advice from the Government and with the best interests of our staff and the public in mind.
Safari Restaurant
This canteen style restaurant is open from 10am to 5.45pm. Hot food is served daily until 5pm. Open for light refreshments until 5.45pm.
The restaurant serves hot and cold meals and snacks, including special children's portion sizes.
Choose from a wide selection of homemade dishes, freshly made sandwiches and baguettes, and baked jacket potatoes.
You can also indulge in delicious homemade scones, flapjacks, gluten free brownies, muffins and freshly baked cookies.
Click here for the full menu.
Pieminister at the Lookout Cafe
Located at the heart of Animal Encounters with a panoramic view of Farmyard Friends, Himalayan Heights and the Penguin World pool. Sit back and relax with a hot drink, sandwich, cake or refreshments.

Opening days vary, please check on day of visit, serving from 11.30am to 5pm. Hot pies cooked to order until 3.30pm.
Pieminister Menu
Free Ranger: Free range British chicken and Wiltshire cured ham pie with leek and thyme
Heidi: (V) Somerset goats cheese, sweet potato, spinach and red onion Pie
Kevin: (VEGAN) - Mushroom, tomato and red wine pie with baby onions and thyme
Moo: British beef steak and craft ale pie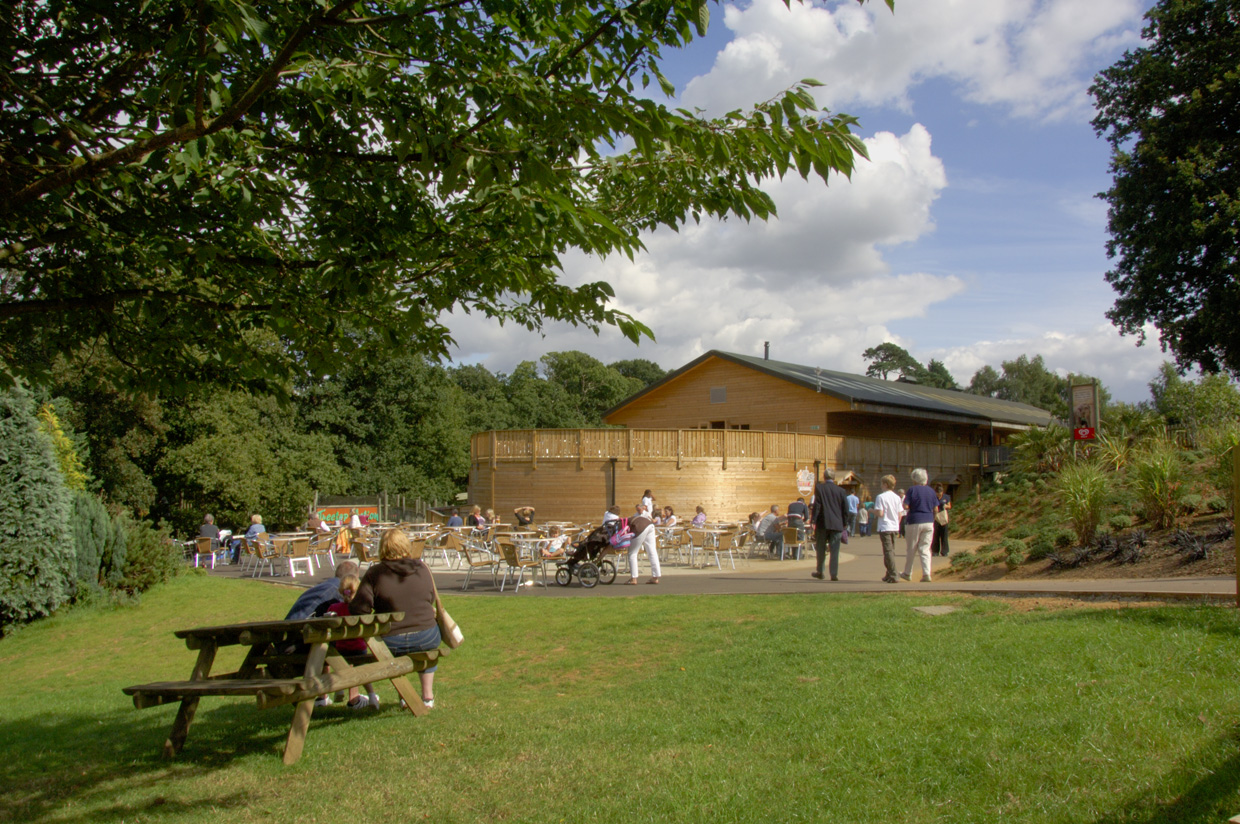 2x2 Restaurant in The Mammoth Play Ark
Open weekends and daily during school holidays, the 2x2 Restaurant is open from 11am to 5pm serving hot and cold drinks and snacks.*
The 2x2 Restaurant seats 120 indoors, adjacent to the indoor soft play centre.
* All opening times are subject to park opening times and/or light and weather conditions
Please note that only food & drinks purchased on the premises may be consumed within the Safari Restaurant and 2x2 Restaurant.
Click here to see the indoor soft play area of the Mammoth Play Ark.
Outdoor Picnic Benches
Bring your own food and enjoy a picnic on one of the benches, overlooking the scenic Swan Lake, alongside the Great Woburn Railway 'Bison Halt' station.
Environment and Carbon Footprint
All our eggs have the lion quality mark
Fish and seafood is certified as 'responsibly sourced'
Our tea and coffee is all certified by the 'Rainforest Alliance'
Waste oil is recycled to bio diesel.
Cardboard is all recycled