Planned Park Reopening 12th April
Following the recent government announcement, Woburn Safari Park is temporarily closed until at least the 12th April 2021. This date is subject to the Government easing lockdown restrictions (click here for more information)
We will announce via the website and socials when tickets go back on sale. Sign up for our email newsletter here to be among the first to hear about tickets.
If you already have admission tickets for a visit you couldn't use previously, we will be in touch with you, when it becomes possible to rebook a new date.
If you have a VIP Experience booked, then the dedicated team will be in touch with you as soon as possible to rearrange this with you. If you have any questions please email vip@woburnsafari.co.uk and please include a contact telephone number.
If you are an Annual Pass holder, dependant on the expiry date, you will be entitled to an extension for the period of time the park has been closed.
If you have a new Annual Pass that you haven't activated, this can be done on your first visit and ideally before the 30th June (for all new passes purchased December through February).
You can email us with your specific enquiries to info@woburnsafari.co.uk - please bear with us, we aim to respond to all enquiries as quickly as possible.
Thank you for your patience and understanding during this time.
Take a walk on the wild side!
Himalayan heights
This innovative enclosure has been specially designed to suit the adaptations of the park's adorable red pandas. Opened in 2017, when this beautiful russet-coated species became resident at Woburn Safari Park for the first time ever.
The red pandas have a house with large viewing windows for visitors, with an overhead tunnel leading out into their spacious enclosure, filled with a rope ladders, nest boxes and bushes to hide in!
Read more about the red panda.
birds of prey
The Birds of Prey is an impressive and memorable part of the Foot Safari, so make sure you catch the fantastic display of flying and hunting skills from the highly trained display team.
Catch the daily keeper talk and demonstration at 2.15pm and see the smallest - Digger and Dodger, the burrowing owls, to the largest showing off their natural prowess in the air above your head.
Walk around the aviaries to visit the home of an African spotted eagle owl, red legged seriema, harris hawk, brown wood owl, common buzzard, great grey owl, Turkmenian eagle owl, burrowing owls, and lanner falcon.
Birds in action
Join the keepers for one of two daily shows at 1pm and 3pm where the birds show off their natural talents - flying, swooping and diving over the heads of the audience.
In the heart of the leisure area, the amphitheatre is overlooked by large open grassy areas and picnic benches. Please respect the 2m social distancing guidelines when picking somewhere to sit or stand to watch the demo.
Learn more about these beautiful birds, their origins and their adaptations to their environment in the daily talk and demonstration.
Birds in Action is home to blue and gold macaw, military macaw, green-winged macaw, greater sulphur crested cockatoo, and the lesser cockatoo.
rainbow landing
Rainbow Landing is where can meet the lories and lorikeets. These brightly feathered parrots are specially equipped for their diet of nectar, with a brush-like tongue. Please respect the one way system in place. Unfortunately, visitors aren't currently able to feed the birds in this enclosure.
Find out more about the residents of Rainbow Landing - the red lories, dusky lories, and rainbow lorikeets.
chelonia pathways
Chelonia Pathways is an outdoor habitat, home to a group of Aldabra giant tortoises. Their enclosure enables visitors to see the tortoises' outdoor and indoor home, thanks to a specially designed bridge and viewing windows.
Whether rain or shine, visitors can enjoy these majestic animals thanks to a viewing window into their home. Don't miss the daily talk and feed at 11am and 4pm with these animals where visitors can learn lots more about these animals from their keepers.
desert springs
Discover a troop of mischievious meerkats in their specially created habitat, designed to encourage natural foraging, burrowing and breeding behaviour. Spot the nocturnal porcupines, snoozing happily in their enclosure and meet a family of yellow mongooses.
Visitors can walk through the habitat under cover and catch the feeding times and keeper talks each day at 10.30am, 12.45pm and 3.15pm.
The sandy sanctuary mimics the animals' natural desert environment, with rocky areas and artificial termite mounds. Keepers will spread feeds around the area, encouraging the animals' natural curiosity to forage out food. Each species has their own special house, where they can retreat into a burrow or den, suited to their natural preferences for sleeping.

Please note that the meerkat enclosure is currently closed for essential maintenance.
Desert Springs is home to yellow mongoose, meerkats and cape porcupines.
Otter Falls
Otter Falls is home to a bachelor family group of Asian short-clawed otters. You can see them playing in and around their cascading waterfall in their purpose built enclosure.
Catch the daily talks and demonstrations at 10.45am and 12.30pm, for a chance to see the keepers give them their daily feed.
Sea Lion Beach
Sea Lion Beach is home to three female Californian sea lions; Kira, Spratt and Leoni.
Watch the daily sea lion feed and keeper talks at 12.30pm and 3pm to learn more about the sea lions that live at Woburn Safari Park.
Sea lion demonstrations are purely at the whim of our sea lions and we never ask them to do anything they don't want to do, we only encourage them with their favourite foods. Dedicated keepers will give a fascinating talk and encourage them to give a demonstration of their natural talents and skills in and out of the water.
Capybara Caves
Capybara Caves is home to a group of adorable capybara. These South American rodents can be seen running around the enclosure, in and out of their house and burrows, as well as taking a dip in their specially designed pool.
Catch the daily keeper feed and talk at 11.15am and 2pm to learn more about this semi-aquatic species. In the warmer months, they will often be seen spending more time in and around their pool.
Australian walkabout
Wander with wallabies and meet the elegant rhea in the Australian Walkabout. The entrance is opposite Elephant Meadow in the concrete car park and please note, a one way system is in place to ensure social distancing guidelines can be followed by all visitors.
You can catch daily feed at 2pm with keepers and spend time close up to these fascinating animals.
Each Spring you'll be able to spot the precious baby joeys, snugly protected in their mother's pouch. Did you know wallabies are only pregnant for one month and give birth to a joey the size of a bumble bee!
Australian Walkabout is home to greater rhea and red necked wallabies.
land of lemurs - temporarily closed
You'll still be able to see some of the lemurs from outside the enclosure, over the fence, but unfortunately we are not allowed to open any primate enclosures for the safety of the animals.
Land of Lemurs is home to three species of these endangered mammals - ring-tailed lemurs, red-bellied lemurs and black and white ruffed lemurs.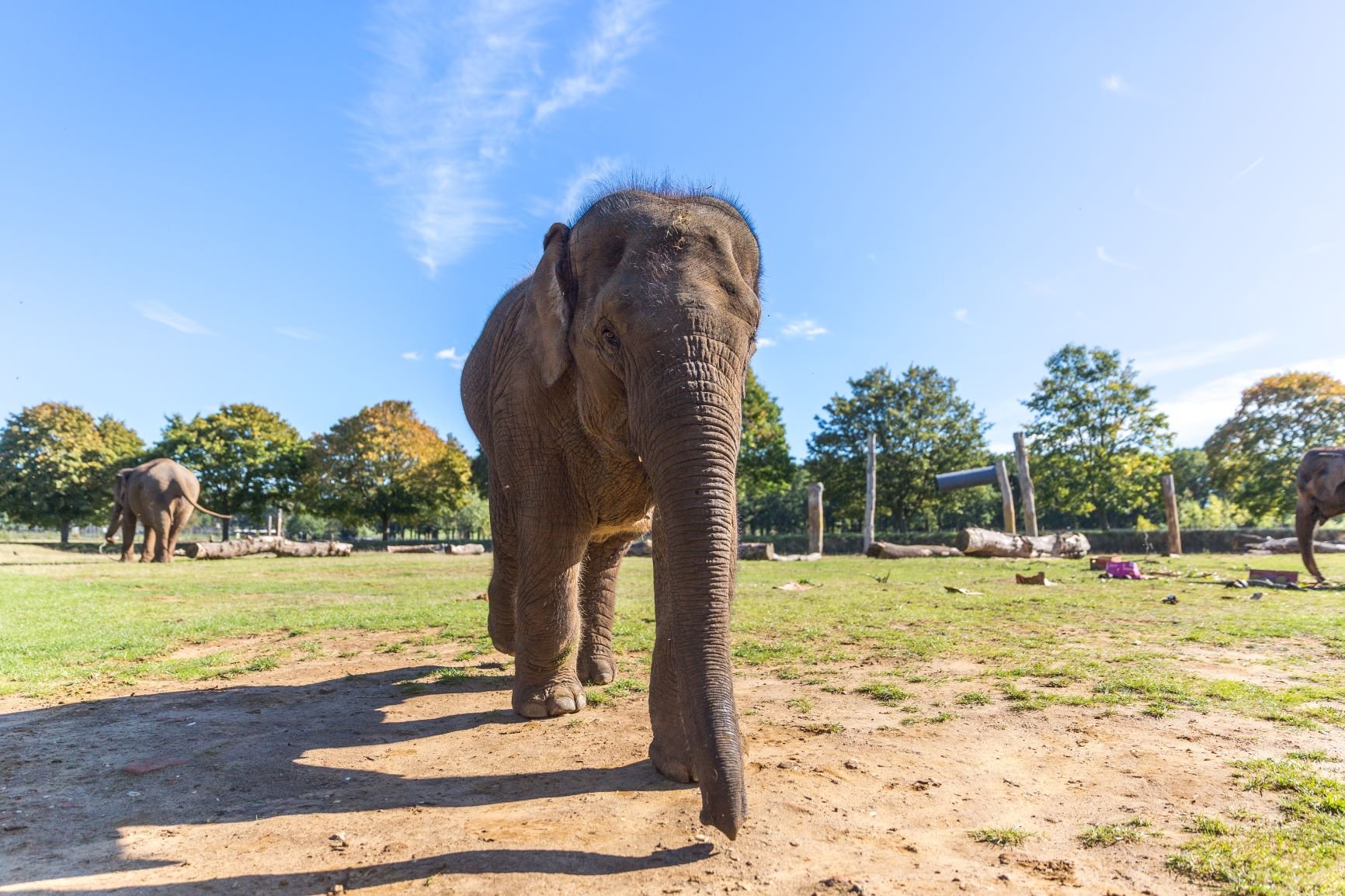 ELEPHANT MEADOW - temporarily closed
Elephant Meadow is a large enclosure with grandstand seating, where visitors would normally sit and listen to keepers at the daily talk and demonstration.
However, these are temporarily cancelled while we put safe precautions for social distancing in place in the Foot Safari.
You will still be able to see the elephants grazing in their Road Safari paddock, as you enjoy the Road Safari.
Click here to find out more about the Asian elephants living at Woburn Safari Park.
sea lion cove
Sea Lion Cove is the indoor sea lion house and is home to Woburn's Californian sea lions.
The sea lions have access to six indoor pools at Sea Lion Cove.
The dissscovery zone - temporarily closed
This exhibit has been specially created to to give visitors the opportunity to learn all about the fantastic cold bloodied species of the Foot Safari see reptiles, invertebrates and amphibians up close.
The Dissscovery Zone is home to several snake species, cockroaches, scorpions, lizards, giant snails and the critically endangered Mantella golden frogs. Designed with custom built vivariums and terrariums to meet the needs of its exotic habitants. Each species requires its own perfect temperatures and lighting, all of which are catered for in this development.
The Dissscovery Zone is home to the Madagascan hissing cockroach, royal pythons, Utila spiny-tailed iguana, bearded dragons, White's tree frogs, golden mantella frogs, boa constrictor, and giant African land snails.
Who else will you
meet on safari?
Find out who else you might meet on your trip around the Safari Park and read more about the fascinating residents!