Open Daily from 12th April
Woburn Safari Park is OPEN DAILY from the 12th April with the Road Safari, Foot Safari and Leisure Area.
Tickets are now available to purchase per person, for visit dates between 12th April and 16th May 2021.
For visits dates after 17th May, tickets will be released in early May. Sign up to our email newsletter to be informed when these will be released.
If you have already have a ticket for a visit date when the park subsequently had to close, we have sent you an email with details of how to change your booking to a new visit date.
Annual Pass Holders can log in to the booking site, then refresh the page to see Safari Park Day Tickets, and select Annual Pass Holder Free Tickets, to book a visit date.
We look forward to seeing you soon!
Foot Safari Talks & Demonstrations
Due to government guidelines, the talks and demonstrations will be unable to take place until further notice.
Visitors can still enjoy walking around the Foot Safari and seeing the many animals that live there, including penguins, sea lions, red pandas, and much more!
Take a walk on the wild side!
Himalayan heights
This innovative enclosure has been specially designed to suit the adaptations of the park's adorable red pandas. Opened in 2017, when this beautiful russet-coated species became resident at Woburn Safari Park for the first time ever.
The red pandas have a house with large viewing windows for visitors, with an overhead tunnel leading out into their spacious enclosure, filled with a rope ladders, nest boxes and bushes to hide in!
Read more about the red panda.
birds of prey
The Birds of Prey is an impressive and memorable part of the Foot Safari.
Walk around the aviaries to visit the home of an African spotted eagle owl, red legged seriema, harris hawk, brown wood owl, common buzzard, great grey owl, Turkmenian eagle owl, burrowing owls, and a lanner falcon.
Sea Lion Beach
Sea Lion Beach is home to two female Californian sea lions; Kira and Leoni.
Watch the two female sea lions demonstrate their natural swimming talents, enjoy feeding and see them relaxing in and out of the water.
Sea lions demonstrations are not currently taking place due to Government restrictions.
Australian walkabout
Wander with wallabies and meet the elegant rhea in the Australian Walkabout. The entrance is opposite Elephant Meadow in the concrete car park and please note, a one way system is in place to ensure social distancing guidelines can be followed by all visitors.
Each Spring you'll be able to spot the precious baby joeys, snugly protected in their mother's pouch. Did you know wallabies are only pregnant for one month and give birth to a joey the size of a bumble bee!
Australian Walkabout is home to greater rhea and red necked wallabies.
chelonia pathways
Chelonia Pathways is an outdoor habitat, home to a group of Aldabra giant tortoises. Their enclosure enables visitors to see the tortoises' outdoor and indoor home, thanks to a specially designed bridge and viewing windows.
Whether rain or shine, visitors can enjoy these majestic animals thanks to a viewing window into their home.
Otter Falls
Otter Falls is home to a bachelor family group of Asian short-clawed otters. You can see them playing in and around their cascading waterfall in their purpose built enclosure.
desert springs
Discover a troop of mischievious meerkats in their specially created habitat, designed to encourage natural foraging, burrowing and breeding behaviour. Spot the nocturnal porcupines, snoozing happily in their enclosure and meet a family of yellow mongooses.
The sandy sanctuary mimics the animals' natural desert environment, with rocky areas and artificial termite mounds. Keepers will spread feeds around the area, encouraging the animals' natural curiosity to forage out food. Each species has their own special house, where they can retreat into a burrow or den, suited to their natural preferences for sleeping.
Desert Springs is home to yellow mongoose, meerkats and cape porcupines.
Capybara Caves
Capybara Caves is home to an adorable female capybara. The South American rodent can be seen running around the enclosure, in and out of her house and burrows, as well as taking a dip in her specially designed pool.
In the warmer months, she will often be seen spending more time in and around her pool.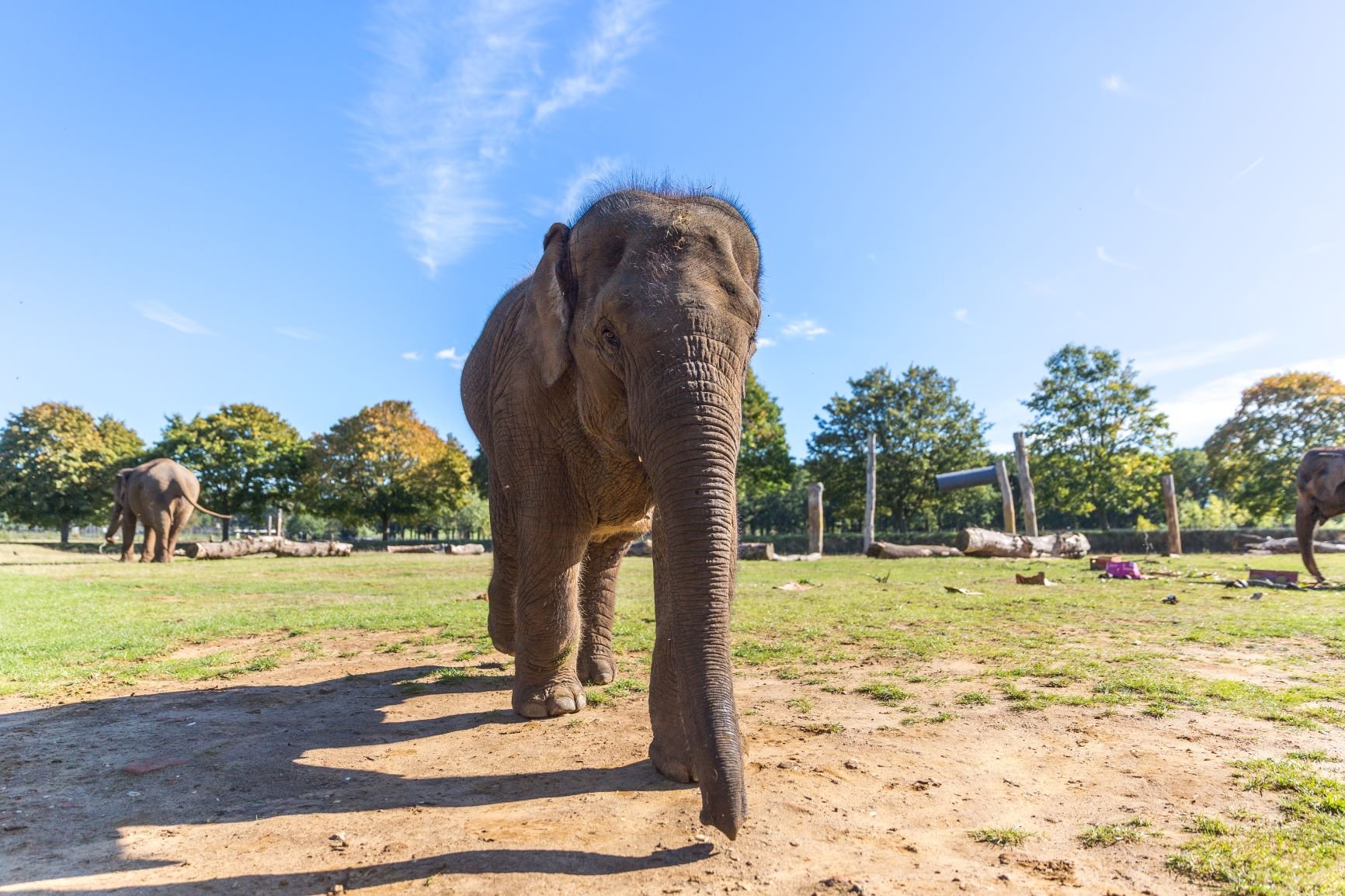 ELEPHANT MEADOW
Elephant Meadow is a large paddock enclosure (located alongside the concrete car park, just as the entry to the repeat circuit route for the Road Safari), where visitors can view the elephants grazing in their specially designed paddock.
The elephants can enjoy wallowing, grazing and browsing from the trees in this enclosure and gives them a variety of spaces to explore, during their day.
Although there is no talk or demonstration at the moment, due to Government restrictions. The herd will generally move down to Elephant Meadow from their Road Safari paddock at around 1pm, until 3pm when they'll be taken out for their daily walk by keepers.
Click here to find out more about the Asian elephants living at Woburn Safari Park.
land of lemurs - temporarily closed
You'll still be able to see some of the lemurs from outside the enclosure, over the fence, but unfortunately we are not allowed to open any primate enclosures for the safety of the animals, during the Covid pandemic.
Land of Lemurs is home to three species of these endangered mammals - ring-tailed lemurs, red-bellied lemurs and black and white ruffed lemurs.
rainbow landing - temporarily closed
Rainbow Landing is currently closed, due to Government restrictions.
Home to rainbow lorikeets, red lories and dusky lories. These brightly feathered parrots are specially equipped for their diet of nectar, with a brush-like tongue.
Find out more about the residents of Rainbow Landing - the red lories, dusky lories, and rainbow lorikeets.
Who else will you
meet on safari?
Find out who else you might meet on your trip around the Safari Park and read more about the fascinating residents!